---
Build the business of your dreams. Automate & Grow. Disrupt Your Industry. Transform Your Business.
Get Automate & Grow now, its the best $12.99 you will invest in your business, this year.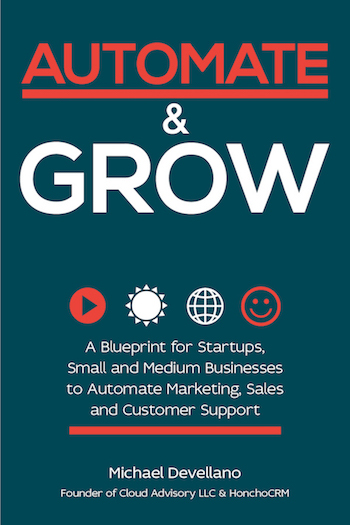 Positive Review
---
The book received early reviews by publications such as the Santa Fe Journal that described it as, "…a masterpiece and a real blueprint for young entrepreneurs to act upon." The goal of the book is to inspire people to develop their own Automate and Grow Strategic Plan
Crucial Book's Takeaways
Learn key technologies, tactics and plans that can
help you transform your business or industry
---
Automate & Grow Strategic Plan
A+G shows you a step by step way to create a custom digital strategy to transform how your business attracts, acquires and keeps customers
Apply Digital Tech to your Industry or Business
Grow by learning about the two tactics to shift customer demand towards your business and kick start the six stages of Disruption
Implement Software Automation to Grow
Use automated systems to scale Marketing, Sales, Customer Success and more.
Entrepreneurs
These are the people who build our economy up and need sound advice.
Business Leaders
As powerful as the trend for creating startups is now, you've got to know exactly what to do.
Small Businesses
As far as I am concerned, even the best of the best need new sound advice.
Med Sized Businesses
With millions of those all across the US, I see it as my mission to help them succeed!
Book Reviews
As opposed to book reviews done by professionals, these are the ones written by specific readers, who bought the book.
---
"Our goal is to free up time for our human capital to do more important work that is high value to customers and the business. Work that helps our business". It is hands down the best blueprint for startups. I can't stop after going through the first page. Taking notes for sure.
I've been in technology for 20 years working on transformational projects that took processes and automated them. "Automate & Grow" eloquently says a story of success through automation and helps with the most common pitfalls. I highly recommend this book to all new tech people as well as the seasoned veterans. Looking forward to the…
Putting Your House in Order
Challenge of optimizing investment in marketing, sales, support and digital product service innovation
There may be someone disrupting your industry – is it you?
Don't be afraid of change
Why your business might be resisting Automation and Growth.
Dancing with Robots
Embracing the Opportunity to Automate + Grow
Creating Your Automate and Grow Strategic Plan
How to decide what you will automate
What will make you grow
Creating a Strategic Plan
Marketing Automation
Growth hacking
Traffic and Conversion Plan
Adopting a Marketing Automation Platform
Building Out Your Sales Capability
Creating a Sales Playbook
What is CRM?
Adopting a CRM
Direct Sales vs E-Commerce
Post Sales Customer Interaction: Support, Service, and Success
Customer Success Roadmap
Customer Success vs Customer Service
Using Case Management
Create a proactive Customer Success function
Assembling Your Team
Internal Resources – Employees
Customers
Contractors, Consultants and Freelancers
Channel Partner
Taking Action: Implementing Your Automate and Grow Plan
You've got a team
You've got a budget
Begin your Automate + Grow Project
Get in Touch With Me
Dealing with lots of fan mail in my career of a writer I really do appreciate every shortest message or q I get from you.
---
Inquiry From Automategrow